#BeautyByBossladii
Welcome to Beauty By Bossladii, where we help you design the look you love. We offer a variety of Top Quality Wigs, Hair Extensions, Mink Lashes & More! 
Thanks for Considering Beauty By Bossladii for your next style!!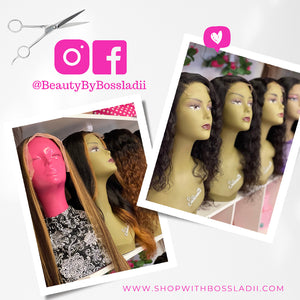 SHOP OUR READY TO SHIP LACE WIG COLLECTION
We have an extensive range of high quality wigs and the product knowledge to help you choose the perfect wig for you. Whether you want to match your natural hair color or would prefer something completely different we can help you achieve the look you want.
SHOW US HOW YOU WEAR IT! #BeautyByBossladii
WE WANT TO SEE YOUR PHOTOS! UPLOAD THEM TO INSTAGRAM
SIGN UP AND SAVE!
We'd love to send you all the juicy details on upcoming sales and promotions. Enter your email to receive exclusive offers on our products and services.