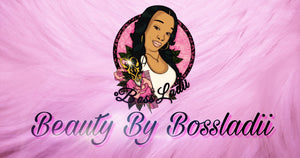 WE ARE EXCITED TO LAUNCH THE NEW LOOK TO OUR WEBSITE
Hey Bosses and Bossladies!
We have been super busy here at Beauty By Bossladii, 
Sunday March 25th we launched the new look to our website for 2018.
We've added our BLACK CLOTHING COLLECTION
and a wider selection of
LACE WIGS & HAIR EXTENSIONS to our inventory.
We have so many things in the works right now,
so make sure you sign up for our newsletter below.
We appreciate our clients and will have way more to offer in the near future. 
Make sure you check out our
ALL FULL LACE WIGS UP TO 18 INCHES ONLY $275 PLUS FREE SHIPPING!
AND OUR 3D MINK LASHES SALE!
Eyelashes are the key to transforming any look to an even better one!
Thanks for your continued love and 
support!
-Beauty By Bossladii 
---